In the spring of 2006 BAO played in the Swedish settlements in the USA. The live album BAO på turné, recorded in Örebro and Leksand during the previous year's tour was released in May. A release gig was held at hotel Rival on May 15.
During the summer Helen, Martin and Jojje did another short tour, and on August 11 Helen was one of the hosts of Swedish Radio P1's annual summer programme. In the middle of October Helen together with Myrra Malmberg and pianist Peter Nordahl premiered their tour Bit för bit, arranged under the auspices of Riksteatern. They had played the show for the first time in 2003, together with Malmö Opera Orchestra at the Malmö Music Theatre.
In December Helen and Fredrik Lycke gave a number of sold-out Christmas concerts together with Maria Magdalena Motettkör and five muscians, led by Martin Östergren.
In 2006 Helen gave voice to Maggie in the animated movie about Curious George, and in 2007 we could hear her in the Danish Advent Calendar called Jesus & Josefine, then dubbed and broadcasted in a Swedish version.
Bit för bit ended in the beginning of March 2007. After that Helen once again appeared at Stockholm's City Theatre, where she, Martin Östergren and other muscians offered the variety show I stunden at Klara Soppteater.
In the summer of 2007 Helen and husband David's son Ruben was born, and with the exception of two BAO concerts in the autumn, in Globen and Scandinavium, Helen was on maternity leave until April 2008, when I Stunden at Klara Soppteater was resumed.
In the autumn of 2008 Helen took on the role of Eliza Doolittle in My Fair Lady, which premiered on September 12 at the Oscar Theatre in Stockholm. The show played until December 19, 2009. The part of Eliza earned Helen the second Gold Mask of her career. During the spring she was also awarded the Lund Student Singers Association's soloist award, motivated with the following: "…who thanks to her personal warmth and artistic insight into her widely appreciated artistry has won everybody's hearts."
In 2008 we could also hear Helen as the earthworm Doris in the animated movie Disco-daggarna (Sunshine Barry & the Disco Worms) and the following year she once more gave voice to Maggie, now in the second movie about Nicke Nyfiken 2: Apa på rymmen! (Curious George 2: Follow That Monkey!)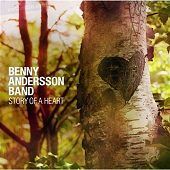 2009 was a very internationally successful year for Helen. On June 24 the new BAO, now called BAB (Benny Andersson's Band), album Story of a heart was released and around the same time BAO kicked off their summer tour. Among other concerts they gave a highly acclaimed performance at Hampstead Heath in London on July 4. The Swedish version of the title track Story of a heart; Sommaren du fick, was released as a single in early June. Helen also did a few solo concerts later this summer. Helen also did a few concerts with Martin and Jojje later this summer.
On September 23rd and 24th an English concert version of Kristina från Duvemåla, now called Kristina At Carnegie Hall, was performed in New York. Helen was the only Swedish artist in the ensemble and she sang her title role with great success. On April 14, 2010 she once again sang the part of Kristina in an English concert version, this time at the Royal Albert Hall in London.
In the spring of 2010 Helen shot the movie Simon och ekarna (Simon and the Oaks), based on a novel by Marianne Fredriksson. The movie, where Helen plays Simon's mother Karin, is directed by Lisa Ohlin and will premiere on December 9 2011. That spring Helen also took part in several concerts dedicated to Stephen Sondheim, who turned 80.
In late May and early June she participated in En touch av Taube at the Gothenburg Opera and on June 18 she performed during the Parliamentary gala at the Concert Hall in Stockholm, held in honor of the crown princess wedding.
In the autumn when Stockholm City Theatre celebrated its 50 year annivesary, Helen had the role of the blind Poetissan in the play Aniara, directed by Lars Rudolfsson.
November 17 she released her second solo album; Euforia – Helen Sjöholm sjunger Billy Joel.
"An enjoyable selection, sensitively interpreted by Tomas Andersson Wij … Interesting hand-picked rarities, but also convincing versions of evergreens Piano man (Barpianisten) and She's always a woman (Kvinnan för dig)"
Jens Peterson, Aftonbladet
"In several cases her interpretations exceed the originals, she has as previously known a unique talent to make every single word feel credible"
Corren
"It's hard not to be dazzled by Helen Sjöholm's crystal clear voice and brilliant vocal technique"
Ralph Bretzer, Norra Skåne
"Helen Sjöholm's wonderful voice and her superb sense of drama lifts her interpretation of Billy Joel's songs to great heights"
Björn Stenberg, Uppsala Nya Tidning
At the end of the year, Helen was awarded the Expressen music prize The Fiddler of 2010.