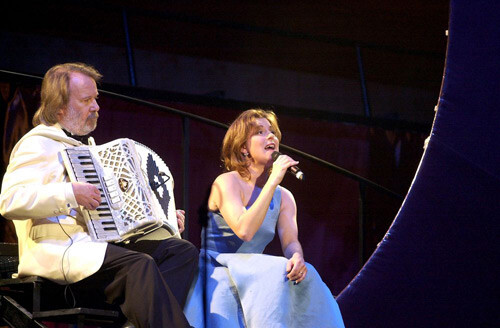 Helen has a close collaboration with pianist Martin Östergren and guitarrist Georg "Jojje" Wadenius. Their projekt In time and space resulted in a tour in Sweden in the summer of 2000. The same summer Helen also toured Sweden with Rhapsody in Rock, the B&B concerts and Speldosa – ett musikaliskt Vasalopp i Sälenbygd – together with among others Björn Skifs.
In the spring of 2001 Helen played the part of Fantine in Les Miserables at Malmö Music Theatre and during the summer she and the rest of the Kristina från Duvemåla leading actors did a tour with the concert version of the play.
In August the In time and space tour together with Martin Östergren and Jojje Wadenius continued.
When the Swedish adaptation of Chess premiered at Cirkus in Stockholm in February of 2002, Helen portrayed the female lead Florence – for which part she was rewarded a Gold Mask (annual award of the private theaters in Sweden).
The same year in May Helen's first solo album, Visor, was released and in the autumn its sales level reached platinum (60.000 sold copies).
"Helen Sjöholm sings clear and natural, but still with strong empathy and flawless diction. And with that little glitter that makes her voice so warm and personal"
Lollo Asplund, Corren
"The voice is slightly magical, really captures the ears of the listeners… Helen Sjöholm's Visor is beautiful, but never tame and enjoyable to the highest degree. A strong and qualitative ballad record with the times, yet tastefully traditional."
Tore Ljungberg, Göteborgs-Posten
"…But it's the voice, the immense and alive [voice], that lifts the material. And her lyrical emotion takes hold of the lyrics and gives them a whole new life. The opening track Allt under himmelens fäste is so gorgeous that you shiver"
Anders Björkman, Expressen.
"She has one of the most sensual voices in Sweden, she is one of the greatest stage personalities in the musical genre, and her versatility is outstanding. Everything she does has quality… Now Helen Sjöholm has released her first solo album with Swedish songs and naturally it has become quite an exceptional album. The selection [of songs] is fastidiously exclusive and yet so genuine Swedish and captivating… But of course Helen Sjöholm tackles all this splendidly. There is sadness and vibrant longing for love in the most heartfelt interpretations of Swedish poetry of nature and love/nature and love poetry. Helen Sjöholm's Visor is one of the best recordings of Swedish ballads I have heard"
Lo Rindberg, Länstidningen
In August Helen went on a short tour around Sweden together with BAB; Benny Andersson Band. She also had time to do her own tour with the material from Visor, and in May-June of 2003 one more, this time shorter, Visor tour took place.
During the summer of 2003 Helen was out on yet another concert tour; Visor under bar himmel, together with Per Myrberg. She also recorded the feature movie As it is in heaven and did three concerts with BAO.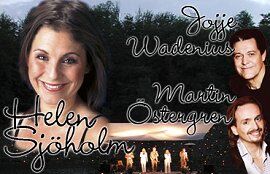 On September 19 the same year Chinarevyn, where Helen took part together with Lasse Berghagen, Magnus Härenstam, Loa Falkman and Sissela Kyle, premiered at Chinateatern in Stockholm. There Helen got the chance to show off her comedic talent.
"Helene Sjöholm is the one in this ensemble who is least tried in the comic context. That she is a supreme singer as well as actress we already knew. Now she also shows a fine comic talent. Her funny monologue as a soccer hooligan is one of the highlights."
Östgöta-Correspondenten
During the autumn and winter Helen gave a number of concerts together with pianist Anders Widmark. The single Sakta stiger solen was released September 22 and the album Genom varje andetag was released on October 22nd.
"The words work fine as poetry set to music and [they] touch [you], they are universal and special at the same time. The latter is not least due to that such a complete singer as Helen Sjöholm sings them. Her effort throughout is very fine and it's hard to imagine the songs sung by someone else. She has that special ability to make everything sound urgent. Widmark's melodies also sound like they are made for her. Beautiful and melancholic, with sometimes surprising twists"
Björn G. Stenberg, Uppsala Nya Tidning.
"She sings so ripplingly clear, radiating joy and warmth from the loudspeakers in sparkling songs like Sakta stiger solen and Sylvesters resa"
Henrik Strömberg, Göteborgs-Posten
In January of 2004 Helen took part in the annual Epiphany concert, sent from Berwaldhallen. The intention was for her to perform together with the Welsh singer Bryn Terfel, but he got ill, which lead to Helen performing by herself. Later the two could finally perform together in the Epiphany concert of 2010.
The spring of 2004 found Helen continuing her Chinarevyn part, a part for which she was nominated for a Gold Mask. On June 25 BAO's second album; BAO!, was released. On July 11 Du är min man seized the top spot on the Swedish charts, a place it held for 38 weeks. In total Du är min man was on the chart for a record time of 278 weeks. In August Helen once again went on tour with BAO.
September 3rd Så som i himmelen (As It Is in heaven) premiered in Swedish cinemas. Helen plays the part of Gabriella; a woman in the local church choir who lives in a marriage with a husband who beats her. Helen was praised for her interpretation by both reviwers and audience. Among other things she won Aftonbladet's vote for best supporting actress and Malena Jansson of SvD thought that she did little short of an unforgettable impression as a terrified woman.
Östgöta-Correspondenten said: "The greatest sensation is Helen Sjöholm. My expectation of a vocal role with a couple of lines spoken in pretentious musical style come to shame. Sjöholm does a spot-on, restrained and very moving interpretation as an abused wife with a great singing voice. When she sings Stefan Nilsson's specially composed song it's in the same class as Du måste finnas."
Gabriellas sång, which Helen performed in the film, was a big hit.
Chinarevyn ended in December, and in the spring of 2005 Helen gave several concerts in various parts of the country, most together with Martin Östergren.
At SKAP's (Swedish composers of popular music) annual spring celebration in May she was awarded the Thore Ehrling Scholarship. In these years Helen also received three Grammis Awards:
2003 This year's song (Genom varje andetag)
2004 This year's pop / dance band (BAO!)
2005 This year's children's album (Lilla Kotten sjunger julvisor)
During the summer of 2005 Helen, Martin and Jojje did a much appreciated tour and after that Helen did yet another BAO tour.
In the autumn of 2005 Helen made her Stockholm City Theatre stage debut in the Three Penny Opera by Bertolt Brecht. This was a continuation of the successful collaboration with director Lars Rudolfsson, and the show was played for sold out houses. Helen was able to add yet another success to her merits!