The Vi-forest is a Swedish aid organization that plants trees in Kenya, Rwanda, Uganda and Tanzania. Four countries heavily affected by deforestation and which for many years have lived with its devastating effects on people and nature.
Helen Sjöholm tells about being a Vi-forest ambassador
Helen Sjöholm is, with her seven Grammy Awards and two Golden Masks, one of Sweden's most beloved singers. She has warmed many hearts with her part as Kristina in the musical Kristina från Duvemåla and Gabriella in the movie As It Is in Heaven, among other things. Additionally, Helen can pride herself with a record: "Du är min man", which she did with BAO, was on the Swedish charts for 278 weeks! Helen, who often receives many flower bouquets after her performances, is passionated about getting more scenes to start giving away Thanks Trees instead.
Why are you an ambassador for the Vi-forest?
– Because The Vi-forest is working concretely and long-term with issues that are important to me: a more fair and more sustainable world – and with a commitment to the environment and the climate.
Why are the issues the Vi-forest is working with important to you?
– We have to engage in the future of our planet – there are a lot of concerns. How resources are distributed and how people's lifestyle affects the earth's climate in a alarming way.
When did your interest in nature begin?
– Nature was tangibly present during my childhood, we spent much time in the forests and in the mountains. As an adult with a stressful life the forest and nature become a chance to breathe and a therapy. It's important to me!
What is your relationship to trees?
– Trees are essential life-givers. Beautiful, powerful and wise. They give me a sense of calm.
How do you hope to help the Vi-forest?
– I hope to make the Vi-forest more well-known and not least tell people about the working methods – one is amazed at the positive chain of effects a planted tree can give! I want to help the Vi-forest find more people who want to contribute with commitment and financial contributions.
What is your favorite tree?
– I love the smell of pine forest!! And we have a beautiful oak tree in the courtyard which is fantastic. The Thanks Tree will become a new favorite.
The interview is translated and reproduced with permission of www.viskogen.se
---
Media
160526 – New bracelet gives children strength in climate fight
Photos 160228: Helen's trip to Rwanda
160216 Helen Sjöholm will give children a voice for the climate
160215 Aftonbladet – Planting trees can save children's lives
151211 Aftonbladet debate – See the connection between climate change and conflicts
---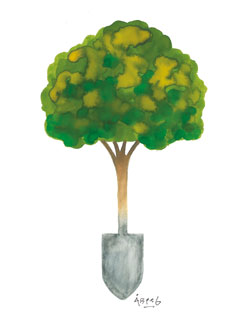 The Thanks Trees which are given to artists
are designed by Lasse Åberg and symbolize
trees planted with families in East Africa.